Kos Marina
Kos is the third largest island in the group, and the second most popular, after Rhodes. Soaked in history and ruins, after a few hours wandering Kos town's fortress and the Asklepion (Hippocrates' ancient sanatorium), you become almost blasé at sidestepping millenia-old Corinthian columns gathering weeds at the roadside. The marina is purposed built and shouldn't be confused with the ferry port which is a few minutes north of the marina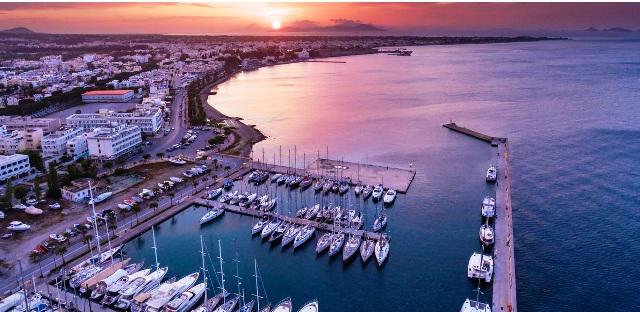 You can start your Dodecanese route from our base in  Kos, in the popular island with its lush green wooden hills.
The cruising possibilities in the Dodecanese are endless, thanks to the 14 beautiful and unique islands in this area. In this Eastern part of Greece, and along the Turkish coast, in the crystal blue waters of the Aegean Sea, some of the most beautiful islands in the Mediterranean can be found.Discover Simi with its picturesque harbor, Patmos with its famous monastery of St.John, Arki, Lipsos, Leros, Kalimnos home of the sponge divers. It is worth a visit to the whole group of islands in the Dodecanese.There is an endless, amazing variety of opportunities for pleasurable sailing, historic exploration, nightlife, or alternatively the tranquility and relaxation of the many numerous small bays.
On this route you'll be following in the footsteps of many time periods, from Greeks and Romans to crusading medieval knights and Ottoman potentates. If you want to take a walk and explore the views then Tilos is your best stop, while if you're more into climbing then the limestone cliffs of Kalymnos are for you. If you want to explore from a different angle then go diving and explore the underwater caves and ancient wrecks, these islands are off the beaten track slightly and give you Greece from a different perspective.
Dodecanese: 7 days itinerary
Kos – Kálimnos – Leros – Patmos – Arkoi – Leipsoi – Kos
Have you always dreamed about cruising through the Aegean Sea and exploring the Greek Dodecanese Islands? Well dream no more. All you have to do is charter a sailing boat, and get carried away discovering one of the most beautiful areas of the Mediterranean. If you already know how to sail, then what are you waiting for? A bareboat sailing boat is already anchored in Kos waiting for you to arrive and set sail……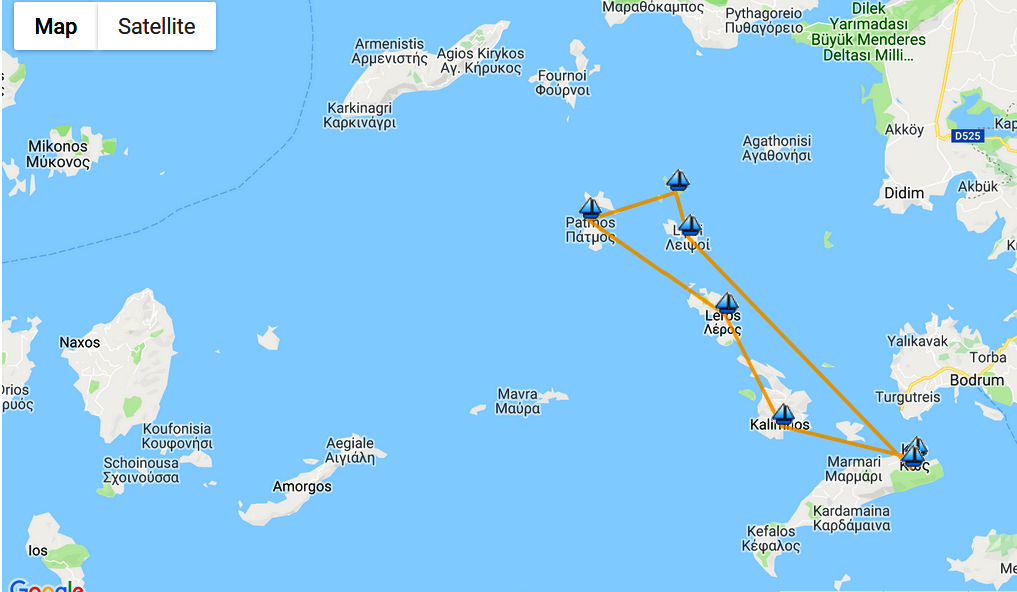 Dodecanese: 14 days itinerary
Total distance 240 nautical miles approximately Departure Kos
1st day: Embarkation
2nd day: Kos – Pserimos – Vathi (Kalymnos) (12 nm)
3rd day: Kalymnos – Xirokambos – Lakki (Leros) (14 nm)
4th day: Leros – Lipsos (11 nm)
5th day: Lipsos – Arki – Patmos (12 nm)
6th day: Patmos – Levithas (20 nm)
7th day: Levithas – Kamari Kephalos (Kos) (28 nm)
8th day: Kamari – Nisiros (12 nm)
9th day: Nisiros – Tilos (15 nm)
10th day: Tilos – Rhodes (42 nm)
11th day: Rhodes – Lindos (Rhodes) (20 nm)
12th day: Lindos – Simi (42 nm)
13th day: Simi
14th day: Simi – Kos (35 nm)
15th day: Disembarkation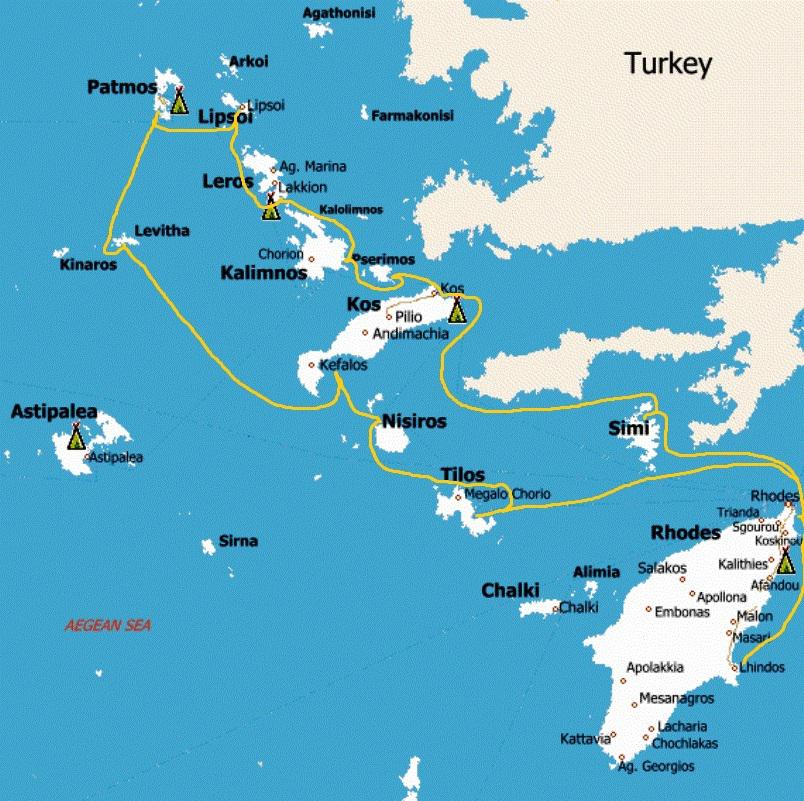 Weather Conditions in the AreaDuring the summer the prevailing wind is the Meltemi that blows from the North West, it has the same characteristics as in the Cyclades. During spring and autumn the wind usually blows from the South East at about force 2-4 Bf